Freeman Spur, a village in section 4 of Herrin Township, extends over the county line into Dennington Township of Franklin County where the mine that caused the village has its shaft. Possum Ridge mine was opened about 1908. Several villages grew up as homes were built for the miners; Freeman, Franklin, Dillard, and Dell'Era. At a 1913 election, the citizens of these communities decided to combine under the name of Freeman Spur, and to incorporate as a village in Williamson County.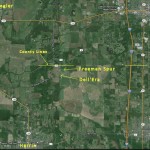 The Yuill brothers' store was the center of business at Freeman Spur when they organized in 1918 and operated both at Herrin and its suburb to the north. Herbert H. Taylor of the coal company was the firm's president, and they served both the miners of the Taylor Coal Company and the general public. The brothers John, Archie, Frank, and Harvey Yuill were community leaders from the time their parents brought them to the new town of Herrin. Their first assignment in community service was to work as janitors in the newly organized Presbyterian Church at Herrin.
The name Freeman is that of a farmer whose home place in section 5 of Herrin Township became the mine property. James R. Freeman bought the place in 1884 and worked there until his death in 1907. His widow sold their land to Southern Illinois Coal Mines, Inc. Their sons were William R., Riley James, and Matthew Wesley Freeman.
(Extracted from Pioneer Folks and Places, Barbara Barr Hubbs, 1939, on sale at the Williamson County Museum)