This large brick building, built at 105 S. Van Buren Street in 1913 within a block of the Williamson County Court House served two purposes. It provided a jail for prisoners with four cell blocks for the men and smaller cells for the women and it served as the home for the Sheriff and his family. Part of the agreement in older times was for the Sheriff's wife to cook for the inmates. Steel doors separated prisoners from the family as well as 13 inch poured concrete walls. Meals could be passed through barred windows from the kitchen into the cellblock.
Each cell bock had peepholes formed in the walls that resembled inverted funnels to aid on keeping an eye and ear on the prisoners. Kangaroo courts were often held among the prisoners who acted as judge and jury to punish unruly fellow inmates. Heavily carved graffiti embedded in the iron work and walls give testimony to those who resided within.
The jail was active through the days of prohibition and illegal alcohol production, the Ku Klux Klan, gang warfare, the Herrin Massacre trials and the great depression to name only a few. A number of Charley Birger's henchmen were detained here and one of them, Rado Millich, was hung just outside the jail.
In 1972 the Williamson County Historical Society accepted the building for a museum after the new jail was completed. Since then, it has been the repository of many irreplaceable heirlooms donated from local families as well as some fascinating antiques that date back to the formation of the county itself in 1839.
Some of the design of the building itself was influenced by Frank Lloyd Wright and the building itself has been placed on the National Historic Registry, one of only four buildings in Marion to claim that honor.
The original kitchen and dining room of the home have been converted into a fully functional genealogical and historical research library that would rival the best of facilities. A guest computer and free Wi Fi are available for users and researchers who need access to online databases or genealogical accounts. For a full index of all of our available resources be sure to see the Library tab on this website and check our Book Store for a listing of available local historical books and records we have for sale to aid your research.
Many of the rooms in the building have been furnished with period furniture and appurtenances to recreate by-gone eras. Other areas of the building have been put to use to recreate businesses, while many parts of the jail remain just as they were 100 years ago.
The sheriff's family parlor has been furnished in the Victorian era.  Among other things, it contains a large Cupboard and Secretary that belonged to Nannie Gray Parks, local librarian and historian.  Her portrait can be seen over a Red Velvet Settee. The old Love seat originally had horsehair, but was restored in crimson velvet, circa 1850. A red Satin Lamp or "Gone with The Wind" Lamp has been made electric. This style lamp was used in many stage plays. The lamp, the love seat and four Windsor Chairs were donated by Winifred Burkhart Burris.
The parlor also contains a Black Horsehair Sofa that looks just like the one in the home of Abraham Lincoln in Springfield. We believe ours to be of the same era, circa 1850. And what would a parlor be without entertainment. On display is a numbered Mason Hamlin Organ made in France in 1874, formerly used in the Carbondale Lutheran Church and an Edison Phonograph with Morning Glory Horn that was donated by Paul Gore. There are several cylinders which still play, though scratchy.
Upstairs on the residence side, you will find a master bedroom, quilt closet, bathroom and two children's bedrooms all furnished with period furniture pieces, dressers, beds, a doll house, toys, Edison phonograph, 1800's pump organ, stereoscopes, photographs, and much more.
The third floor, in the past, was used to sequester juries but today contains a reproduction one-room school house stocked with innumerable class photos from the early 1900's, desks, books, typewriters, blackboards and more. This room serves as a repository for actual pieces of history that were removed from the many one-room school houses and public schools in the county.
Also housed on the third floor is our military room, dedicated to those who served their country. A selection of uniforms and paraphernalia are on display that range from the Civil War to Desert Storm. We have unusual uniforms, like an 1870's Illinois Militia and 1898 Spanish American War dress uniforms. We also have numerous WW I and WW II keepsakes, trophies and memorabilia as well as the wooden props off of airplanes dating to the WW I period.
On the jail side of the building can be found a room containing two extensive, donated collections of Native American artifacts including those dating back to the Mississippian and Woodland periods. This includes many spear points, arrow and ax heads. In the same room, a display of bottles that once contained dozens of products that were locally produced like milk and various glass soft drink containers.
A cell block on the first floor is as it was years ago, with its small, cramped, four man cells. It is accompanied with many articles related to the judicial system such as the robe of Warren W. Duncan, a two term Illinois Supreme Court justice and the desk of Judge George W. Young. Also on display are numerous articles related to the Charles Birger gang as well as he and a few of his cohorts demises.
Another cell block on the first floor has on display, the cashiers and tellers windows and furniture from the Johnston City State Bank dating back to the early 1900's as well as a Wooten Patten desk used by the American Express Company. A desk preferred by many influential men of the late 1800's, including John D. Rockefeller. The actual guest register from the Ozark Hotel in Creal Springs dating to the late 1800's can be seen as well as dozens of photos from county towns and villages and antique optical equipment belonging to the Bainbridge jewelry and optical business.
One of the women's cells on the second floor has been converted into housing for all of the antique millinery, shoes, boots and various forms of men's, women's and children's clothing and related materials. We have a nice selection of antique clothing for both sexes and all ages from button shoes to wedding dresses and hats.
Another of the smaller cells has been converted into a period doctor's office. This room houses the desk and much of the equipment that used to be owned by Dr.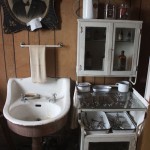 Andrew Springs from the Colp and Dewmaine areas of the county. On display is an antique medical desk, instruments, wheel chair, dentists chair, medical cabinet and more.
One of the old cellblocks on the second floor houses a reproduction of an old country general store, post office and drug store typical of rural areas in yesteryear. The cabinets and shelves in the general store area came from an old local store that served one of our Marion neighborhoods for decades, right down to the credit records and much of the items on the shelves. A hornet's nest that was once featured in the Guinness Book of World Records and came from near Marion can be seen as well as ladies side saddles, oxen yokes and a potbellied stove.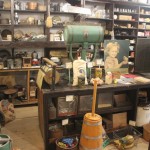 On the other side of the room with the general store are the actual counter, shelving, pharmacy and products removed from an old family store in Stonefort Illinois right down to the marble counter tops and mortar and pestle. Part and parcel of a number of country businesses was also serving as postmaster which is also reproduced in this exhibit with a post office reproduction.
In the basement of the museum, we are fortunate enough to have on display a very complete barbed wire collection belonging to Mr. Harry Boyd. It is complete with antique tools and stretchers. There can also be found a selection of antique carpenter, mechanic and farm tools dating back to the 1800's.
One room on this level is solely dedicated to our coal mining display which features a mining scrip and token collection, miner's lamps, buckets, belts and tools as well as well as many mine facts
and photos. Also included in this display are numerous photos related to the Herrin mine massacre.
We have a display of household and kitchen items like old washing appliances and tools, cooking and baking tools, ice boxes, irons, stoves, a portable pantry, weaving looms and much, much more.
If you have never visited the museum before, we encourage you to visit and see what we have to offer. For current hours of operation, please see our Home Page.