Crenshaw Crossing marks the homestead of Robert and Jane (Bell) Crenshaw, who came to Williamson County from the neighborhood of Equality where an older brother John Hart Crenshaw manufactured salt and built the mansion on Hickory hill known as the slave house. The Crenshaws built a log cabin in section 3, West Marion Township, and opened a farm. Their sons and daughters were reared and went to homes of their own. Thomas Crenshaw, the oldest son, married a daughter of Jefferson Russell and settled near Russell corners as a tobacco farmer.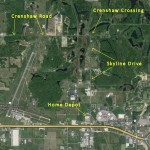 The home farm was managed by the youngest son, Fred R. Crenshaw, and in 1903 the Coal Belt electric railroad was built through the farm on its route between Fordville and Marion. The mines in the neighborhood and the crossroad to Bainbridge caused a station to be made. Later the line of the Chicago, Burlington, and Quincy railroad was put through a short distance west, and people gathered in quite a community.
William Crenshaw built a store on his part of the family farm in 1906, and deputized his nephew Edward Crenshaw as manager. Otto L. Grant, Storekeeper Crenshaw's brother-in-law, became a partner and they dealt in general merchandise and miners' supplies. In 1911 Crenshaw and Grant sold the store to another brother-in-law, W. F. Trout, who quit business in 1914. The building then became the Baptist church.
During this time twenty-five or thirty houses were built nearby and occupied by miners. Other stores were built by Robert Wilson and Thomas McCracken. As the neighboring mines were abandoned, houses were moved, and now the neighborhood is reverting to its former quiet.
William Crenshaw (1839-1936) was the third son of Robert and Jane Crenshaw, and was born near Shawneetown while his father was his uncle's partner in the salt business. As a young man in the Crenshaw neighborhood, Bill Crenshaw and one of the neighbor's daughters seemed about to make a match. But the Lincoln-Douglas debates became the topic of the hour, and the sweethearts were divided by politics. Crenshaw favored the Little Giant, the young woman believed in the Rail-splitter. When war broke out, the two leaders were reconciled for the good of the nation but the two Williamson county sweethearts never made up. William Crenshaw died a bachelor.
(Extracted from Pioneer Folks and Places, Barbara Barr Hubbs, 1939, on sale at the Williamson County Museum)