Colp, or as the older maps are printed Colpville, is in section 22 of Blairsville township at an important crossroads for the coal towns. Herrin and Blairsville are east and west, Clifford and Carterville, north and south. The village was incorporated, and a post office established March 25, 1915 remains in operation. Maud A. Carter was the first postmistress.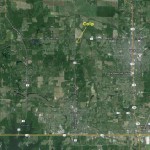 The town took its name from the coal activities of John Colp and his Colp Coal Company. In 1901 Mr. Colp put down the first shaft on the southeast quarter of section 22. The Illinois Central railroad built a track in 1904 from Brush junction to serve Colp mine and later extended it to Clifford. The mine was sold in 1906 and became mine 9 of the Madison coal corporation. It is now worked out for its coal of the number six seam. Mr. Colp moved his coal activities to the east part of the county, where he opened a mine at Pittsburg.
John Colp (1849-1920) began activity as a farmer, first on his father's place, then on a farm in section 9 of Carterville Township that became his own homestead in 1876 and is now that of his son, Logan Colp. With Hezekiah F. Arnold as partner, Mr. Colp sold farm machinery and operated threshing machines, cut lumber in Missouri, and finally built the Carterville flour mill in 1894. The coal development followed. Mr. Colp helped organize the Eldorado, Marion, and Southwestern railroad to open the coal field east of Marion, and became president of the company.
Mrs. Colp was a daughter of George and Fredonia (Ryburn) North and was born in the Worth school district.
John Colp was a son of Milton Stewart Colp (1820-1874) who came to Williamson County as a small boy, and opened several of its farms for cultivation. Stewart Colp owned the Laban Carter farm, on which Carterville stands, long before the coal discovery was made. As he drove home from DeSoto with a load of wheat, Stewart Colp was assassinated, doubtless because of his strong adherence to the Union which he defended as a soldier in Company H, 31st Illinois infantry.
(Extracted from Pioneer Folks and Places, Barbara Barr Hubbs, 1939, on sale at the Williamson County Museum)