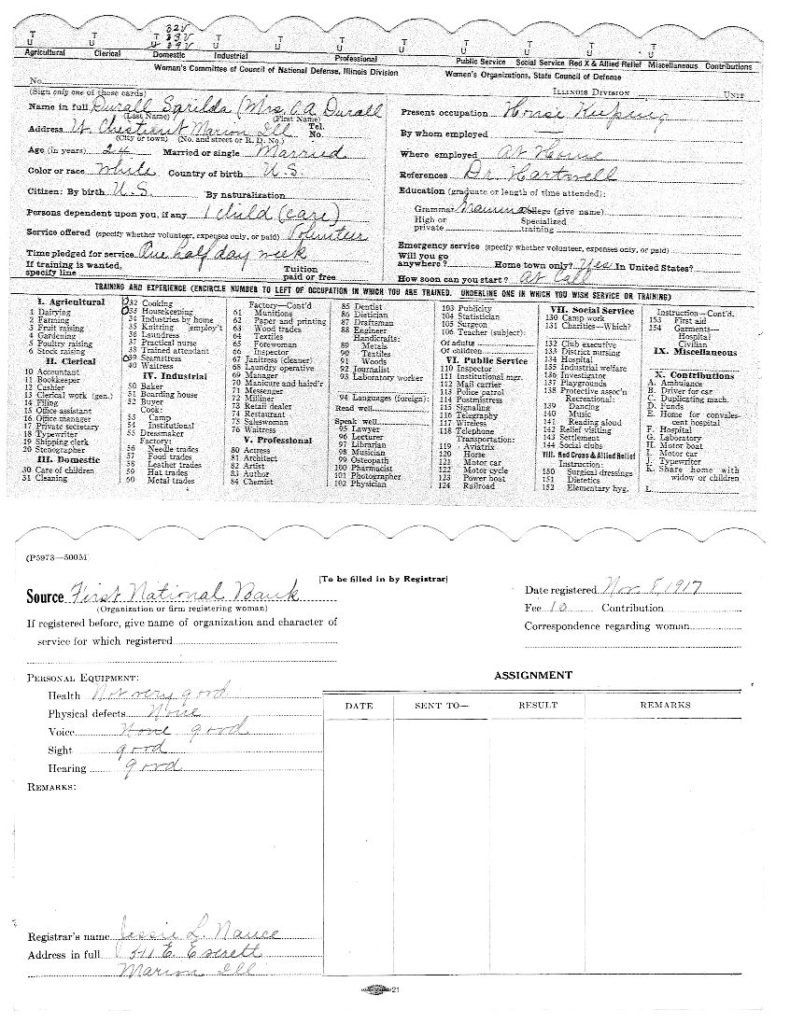 In 1917, President Woodrow Wilson, directed the organization of the Council of National Defense as a way of more or less inventorying the nation's assets in preparation for our entry into World War I. An extension of the program was the Woman's Committee which was administered on the state level.
The Woman's Committee had several areas of emphasis: Americanization, Child Welfare, Educational Propaganda, Food Administration, Food Production, Foreign and Allied Relief, Health and Recreation, Registration, Women in Industry and Maintenance of Existing Social Agencies. Their work included registration of women in the state, assisting with Liberty Loan Bonds and with the November, 1917 food pledge. The Woman's Committee struggled with establishing its authority over this work because of lack of clear direction from the federal government.
Regardless of its success, women from our county and the surrounding area were registered out of Marion and the Williamson County Historical Society is in possession of over 1,800 of these 5 X 8 registration cards that were filled out over the time period of November 1917 through May 1918.
An example of the front and back of one of the cards is shown to give you an idea of what information the cards contain. The index file has been added to the Master Misc. County Records Index on our website. To view a list of the women who we have registration cards, CLICK HERE.
The cards will be made available for perusal at our museum/ library at 105 S. Van Buren St. in Marion. The museum is currently under its winter hours of operation of Saturdays only from 9:30 till 3 PM until March 1st.