Weaver, the village in section 1 of Blairsville Township, was only a timbered wilderness between Pond creek and Big Muddy river when the Weaver Coal and Coke Company began sinking a mine shaft in September 1902. The mine was an investment of John W. Gates of Chicago, whose fortune was founded when he hired himself as a salesman to the inventor of barbed wire. His spectacular operations earned him the nickname, "Bet you a million" Gates. Amzi F. White interested Mr. Gates in coal lands after his work for the Illinois Central was completed around Cottage Home. A. E. Harper represented Mr. Gates in making the purchase.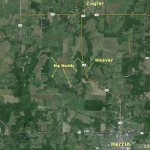 Fred W. Richart, who designed mine number 7 at Herrin, was employed to survey the land and begin operations. Mr. Richart, son of the early postmaster at Fredonia, bought his first car to get back and forth from the new mine. It was so nearly the first car in the county it occasioned newspaper headlines.
William Ramsey was imported from Oklahoma by the mine owners to superintend early activities. He was a brother of Erskine Ramsey of the Tennessee coal and iron railroad. It was a wet and stormy winter, work progressed slowly. Mr. Ramsey demanded action at any cost. Neither mud nor quick sand were allowed to end the work that winter. But the company bought several active properties near DuQuoin and began operations. Weaver was abandoned until 1904 when W. P. Rend of Chicago acquired the property.
Colonel Rend began his operations in the gopher hole mines of Ohio. During a strike, he settled with his miners at once and worked every day although he could not ship the coal. His competitors, the closed mines, prevented his receiving railroad cars. Colonel Rend sued the railroad, collected a considerable sum as damages, and left the Ohio field for that in southern Illinois.
Weaver became known as Rendville during Colonel Rend's ownership. In 1909 a steel tipple was built. T. M. Jones of Herrin built a hotel, school, and several dwellings under contract from Colonel Rend that year.
Joe Grizzell ran the company store for Colonel Rend, and his assistant was Nick Tudoff. Nick's first restaurant experience was cooking mulligan in an iron pot out behind the store when the colonel's son, Frank Rend, came down from Chicago. Nick had his own modern cafe in Herrin in 1939.
The Old Ben Coal Corporation bought the Rend properties at Weaver and in Franklin County. The mine at Weaver was renamed Old Ben twenty on April 30, 1921. Operations ceased March 31, 1927. Miners left their homes to search for work, and in 1938 the once flourishing village was abandoned ever, as a voting precinct.
(Extracted from Pioneer Folks and Places, Barbara Barr Hubbs, 1939, on sale at the Williamson County Museum)