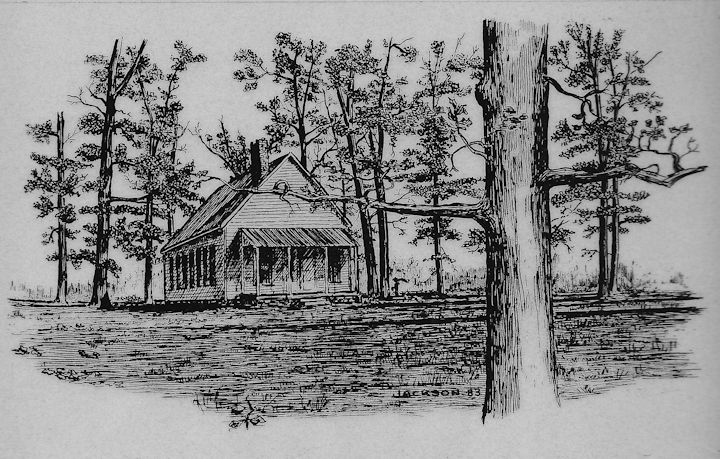 Mrs. Mamie Parks Hartwell, a former resident of the Cross Roads Community, now residing at the home of a daughter in Davenport, Iowa, mailed a history of the community in a letter to her cousin,  George Norman,  of Marion.
The letter, written in response to an Invitation to attend the annual homecoming at the Cross Roads Community Center September 13, was handwritten and very descriptive proving her to be very alert for the age of 86 years.
The letter in part, submitted by Mr. Norman, reads as follows:
Having heard that the people of old Cross Roads District have a homecoming early in the fall of each year at the school yards, brings back many memories to me and wish vary much I could be present on that day. Although few people in attendance may not know or ever heard of me.
Hear it was, I was born and raised and all the education I ever had, save a few months in Marion, was In the Old Cross Roads School. Yes, it was "Cross Roads School," "Cross Roads Church," and few people ever knew it by any other name. It was In Township 9, Range i, Williamson County, Illinois. So our teachers said.
When I was a child and on a farm, I did live in a house just a little ways east of the school and west of the two-story house in which now I understand Mr. White abides.
Yes, I recall the old school facing the west. Just in front of the door, came the "Old Chicago Trail" as they were called then. On south through the Bethlehem bottoms on through Golconda to Cairo. In front of our house came the East and West trail from Equality, Corinth, Marion and Murphysboro. Thus the crossing of the two roads north, south, east, and west qave us the name of Cross Roads. Chicago at that time was a very small place.
Yes, there were the days of the slate and pencils, blackboards, hickory switch of the teacher on the chair railing, water buckets and tin cups and coal stoves. Teachers did their own janitor work or paid from their own pockets if they had it done by others. There were query boxes, Spelling matches, literary societies, dinner buckets, boots, popcorn and candy pullings. We lived near the school and my father, it seemed, was always on the school board. Teachers sometimes boarded with us. Christmas was a day of treat by our teachers—a big bucket of stick candy—and needless to say it was well received by all.
Some of the county superintendents of schools I remember were John Duncan and Tom Youngblood.
Some of the teachers I had were the Buckleys, Minnie White, sister of Johnny white; Lilly Mitchell, Will Time, Annie Bead, Lewis Pulley, Lodge Grant, Frank Atwood, John Fowler, Albert Duty, Mr. Garrison and Marshall Hartwell-later my husband. These I went to myself. Some of the earlier teachers that my older sister had were Joe Hudgens, school teacher and minister; Bill Bundy—later of Bundy Drug store, Will Warder, Attorney, both of Marion and deceased. Those living in the district in my days were Normans – many families—Lees, Odums, Heffins, Davis, Swaffords, Tibbs, Roberts, Wrights, Campbells, Owens, Walkers, Hartwells, Sheretz, Hudspeths, Fietsam, Webers, Langs, Singlars, Flucks, Gohmes, Troutmans, and perhaps others.
John Dempsey Odum was the first of Williamson county's earliest settlers. This was north of our old school building. Others were the Crains; Rumseys, who were said to have the first piano in the county; Hills, Kirkams and others.
I lived on a farm known as the Thomas Davis farm, which consisted of four hundred acres. It was one of the largest, if not the largest, in the county. My mother was Mr. Davis's youngest sister and was married to James K. Polk Parks.
Mary Davis came over from Tennessee in a wagon. There were three covered wagons with oxen and three families. She was three years old and did have some recollections of the trip. They brought a cow hitched to the wagon, washed their clothes when they came to a spring or stream, and slept in the wagons. The men slept outdoors if the weather permitted. The journey took three weeks. My mother married December 30, 1869. On this farm there was born to the Parks eight girls and one son.
Yes, there were many changes in this course of time. This East-west trail from Corinth to Marion came in front of our house, dividing the dwellings from the barns and stock yard on the south side. On the farm were four barns, considered large in those days, pumps and drinking troughs, one pond, granaries and tool sheds.
Uncle Tom lived in town, though I do remember early in life when he built the home on the farm which would be somewhere near 82 years ago as I am now 86.
There was a little walnut grove between the old and new house. The deep well of cold water never went dry: People traveling from east to west-especially in the winter time were horseback. Men and women would stop to get a drink of water and often eat lunch here.
Sometimes travelers, not too well acquainted with the trail, would think perhaps it was a little village. Often after we retired at night, you might hear a call "Hello! Hello!" You would hear my Father at the door, "Who's There? What do you want?" The reply, "How far to Marion? or Murphysboro? or next railroad station." It was about four miles to Marion but was still a long way if you were tired and your horses hungry and tired. Or, they might say, "What is the chance to get a stay all night and feed my horse," or chance "to sleep on the hay." Father would say, "Do you smoke?" if so, No! fearing it would set the barn on fire.
These wishes would be granted sometimes making room in the home, though I can't see how we did it. A night's lodging, so they said, but this was breakfast, sleeping and feeding horses without ever a thought of charge. Once a man gave me a quarter. I had never had that much of my own and felt I was rich.
Speaking of horses and traveling. Uncle Tom had lived in Tennessee near Knoxville during the Civil War. Soldiers would come into the homes, make demands or break and steal. I remember him saying when they came he would just ask what now and turn the house over to them. They would eat and fill their pockets of what they might have such as apples, etc. and be gone. Usually they were only hungry. Later word came that they demanded possession of everything. He had a fine bay horse and saddle he prized very highly. He was also a fiddler. He wrapped his fiddle in oil cloth, tied it to his saddle and a few clothes and fled out the back orchard traveling only at night. I remember a gold watch he had saved with the chain. He continued at nights until he came to the river and on to Marion where some of his relatives had already gone. Later, here in Marion, he feared soldiers might steal his fiddle so he wrapped it in oil cloth and hid it in the haystack. I recall many more stories connecting the Crossroads community to the developments of our nation's history.
Now I must bring to a close (at least in script) memories of the Old Crossroads School house, although I could go on and on with the years. But lest we forget to remind some of the younger of today the broad differences of the yesterday and the today while we are at this time hearing so much said about the building of now schools and colleges and the amount of money involved in the same.
In the year of 1850, Illinois had 10,238 public school buildings, many of them small one room and log construction. In 1871 only 1,089, out of a total of 11,011, were of logs. This was only six years before I was born. The first Crossroads school was log, though I do not remember it. Perhaps some have the date.
My mother's first schooling was in a log building in Herrin's Prairie district. They had open fire places and log benches for seats and were all subscription schools. They knelt in prayer there even though she was a child.
And here too brings back further memories I cannot refrain from mentioning. These are some of the most cherished memories of all. This is of the "Crossroads Church." I shall write about it later.
—Mamie Parks Hartwell, October 8, 1964
_______________________________________________________________
Many families had numerous members attend Cross Roads. Of the 773 students, there were: Norman—42, Davis—26, Hartwell—26, Owens—25, Lee—20, Parks—17, Mifflin—15, Walker—15, Zoeller—15, Roberts–13, Odum—11, Herren—10, Purdue—10, Abshers—9, Swafford—9, and Hefflin—8.
One year, during the 1890's, there were 18 Normans enrolled in school.
The graduating class of 1936 had 16 members more than half the total number in the entire school.
The last class to graduate in the building was the class of 1948, 5 members.
(Extracted from Cross Roads School, Bob Jackson, published in 1984, for sale at the Williamson County Historical Society Book Store)