Cottage Home, a country village and former post office in section 16 of Grassy Township, was on the line of the earliest road through the neighborhood, the Frankfort-Jonesboro post road of 1839. The land was fertile between Grassy and Little Grassy creeks, and settlers who came later than those in other parts of the county found fine farms when the timber was cut. As residents increased, a neighborhood of small farms and finally a little village with its general store and post office was formed.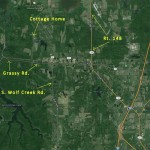 Amzi White secured the post office to aid his real estate sales in the neighborhood. It was established February 23, 1872 with Mr. White as the first postmaster. Amzi F. White (1847-1909) was the son of John H. White, county clerk and lieutenant-colonel of the 31st Illinois infantry. When the father was killed at Fort Donelson, the son entered the regiment, the youngest soldier of them all. Amzi F. White was a druggist and postmaster at Marion before his real estate business made him a familiar figure all over the county. He was land agent for the Illinois Central railroad.
William Spence, who named the office, succeeded Mr. White as postmaster September 8, 1873. The Spence family were eastern people, set apart from their southern neighbors. They lived in a pretty vine covered cottage, the first building in the village of log houses to be made of sawed lumber. William Collins was appointed postmaster August 1, 1878, the office was discontinued the following January 30th, but on February 20th, Mr. Spence was reappointed, and service was satisfactory again.
Mail came to Cottage Home from Carbondale, with John McIntosh as the carrier. He went on to Carrier Mills before he finished his route.
George W. Crowder was the blacksmith in the village, and J. R. Townsend the woodworker and carpenter. Both were Tennesseans, as were the majority of their neighbors.
A Free Will Baptist church was built in the village about ten years after the post office was located. The children attend Mann School.
James Pelle became postmaster June 11, 1883, less than three years later Charles Spence was appointed, to be succeeded within eight months by William Collins. His second term was but little longer than his first and ended August 22, 1887.
James N. Sanders, the next postmaster, enlisted at Marion in Company E of the 31st Illinois when John A. Logan raised a regiment. Sanders was elected corporal by his fellow soldiers, promoted lieutenant and captain of his company, twice wounded at the battle of Atlanta, then brevetted major of the regiment. February 8, 1888 he helped organize a post of the Grand Army of the Republic among his neighbors, and was elected commander. The other officers were John D. Fly and William A. York, a former lieutenant of the 31st. They named their post, number 655, for James Adkins, a soldier of the 81st Illinois Infantry. When the ranks of Civil war veterans thinned, the post was disbanded in 1915, though it still had ten members. J. A. Musgrave was commander at the time, and the other officers J.M. Davis, John Noel, and W. W. Watson.
Postmaster Sanders was a brother of the three Baker ladies of the early Baker settlement. His nephews, the three Doctors Baker of Baker's crossroads, had a general store at Cottage Home in addition to their medical and tanning interests. They put a stock worth $3,600 into this store when it was opened in 1884.
John Wesley Thaxton succeeded Postmaster Sanders January 23, 1892. Mrs. Thaxton was a daughter of Jackson and Caroline (Sanders) Baker, so the post office was becoming a family matter with her husband succeeding her uncle. Postmaster Thaxton was a grandson of two of the first settlers in Grassy, Jimmie Thaxton and Jesse Mann, both Virginians. His parents were Benjamin Franklin and Pernetta (Mann) Thaxton.
The family succession to the post office was broken May 7, 1897 when James A. Davis became postmaster. But nine months later, Postmaster Thaxton's son-in-law was appointed. James W. Bradbury served from February 7, 1898 to July 5, 1900 when William A. Ogden was appointed.
Albert B. Chamness kept a general store at Cottage Home and became postmaster February 18, 1903. He advertised that he had what people want when they want it, a principle of successful business anywhere. Mr. Chamness served as postmaster until the office was discontinued May 31, 1911.
(Extracted from Pioneer Folks and Places, Barbara Barr Hubbs, 1939, on sale at the Williamson County Museum)