Wolf Creek, a crossroads community and former post office in section 25 of Grassy Township, lies west of the creek whose name it bears. Panthers and wolves abounded in the heavy timber along that creek when the first settlers came to clear farms. Residents came in rapidly when the Illinois Central railroad offered its Grassy township lands for sale.
Eli Lence, who came up from Union county in 1861, was the postmaster when the office opened June 12, 1871. He was also the blacksmith, and had his shop east of the country store.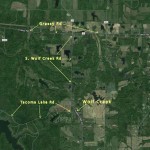 Chapel Hill Masonic lodge 719 was organized at Wolf Creek October 7, 1874. Among the charter members was Postmaster Lence, and thus began a family tradition that brought each of his sons Masonic honors. I. N. Lence was voted a memorial in the autumn of 1938 for fifty years' continuous membership in Chapel Hill lodge. W. R. Lence has been invested with the highest degrees of both York and Scottish rites, and served as Grand Commander of Oklahoma, one of the states most active in Masonry. E. G. Lentz is past commander of Fellowship lodge 89 at Marion and of the Carbondale commandery. Theo and Marshall Lence, the other brothers, were also Masons.
Chapel Hill Baptist church stands south of the store in a grove, the Masonic lodge hall on the second floor.
John Morton and Anna (Lence) Kilbreth had a homestead just north of the church where their sons, Allen and Jimmy Kilbreth who became leaders of the new towns at Clifford and Energy, spent their boyhood. This home was founded as a result of meetings at Pleasant Hill church whose pastor baptized and married the parents.
Eli Lence closed his post office accounts in the late eighties and moved to Creal Springs. His son and apprentice, Newton Lence, bought out the blacksmith ship of Joseph Stover near the store, and stayed behind.
Wolf Creek School, district 103, stands north of the store. In the eighties it was still a crude building with rough homemade furniture. But a primary student there in the winter of 1887 made a start at book learning that led him to make teaching his life work, and to share his skill with generations of younger teachers. E. G. Lentz was dean of men at the Normal in Carbondale in 1939.
(Extracted from Pioneer Folks and Places, Barbara Barr Hubbs, 1939, on sale at the Williamson County Museum)