Whiteash, the village in Lake Creek Township, was begun July 3, 1903 when a plat was surveyed in the northwest corner of section 31. Charles A. Gent of Marion secured coal lands in that section during 1903 and sank a mine. The town that grew up around the shaft was given the trade name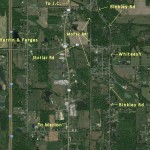 used for the coal mined there by the Chicago and Marion coal company, which Mr. Gent organized. The town s longest street, laid along a switch of the Chicago and Eastern Illinois railroad, was named for the town's livelihood, coal.
A post office was opened February 29, 1904 with Robert T. Payne as postmaster. This mail service was continued until November 30, 1934.
The village was incorporated June 16, 1905.
Much of the original coal land for Whiteash mine was secured by Mr. Gent from Samuel K. Casey, newspaper publisher at Marion. His farm was inherited from his grandfather, George W. Binkley, and part of the homestead was entered at the federal land office in 1837 by Mr. Binkley. He was a justice
of the peace from 1841 to 1847, and he often went to Vandalia or Springfield to attend the legislative sessions with his friend Dempsey Odum. Mr. Binkley's daughter married Jesse Morgan Casey (1833-1896), a nephew of Mr. Odum. Mr. and Mrs. Casey made their home on a farm adjoining the Binkley homestead where their son Sam was raised. He laid out lots for an addition to the village of Whiteash on part of his grandfather's 1837 land entry.
The mine at Whiteash was operated until 1922 when it filled with water and was abandoned.
(Extracted from Pioneer Folks and Places, Barbara Barr Hubbs, 1939, on sale at the Williamson County Museum)