Stiritz, the mine and surrounding village in section 11 of Herrin Township, was named for a prominent Johnston City business man. A. C. Stiritz leased his coal lands in Schoharie prairie to John Colp of Carterville and Charles A. Gent of Marion in 1902. The next year the shaft was sunk by John Sherman Dowell, who grew up near Hampton church.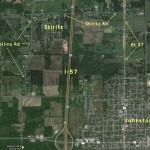 One of the workers who helped sink Stiritz mine was Fred Cooper, a native of the Isle of Wight. Mr. Cooper became legal investigator for the United Mine Workers of America in the Illinois district and handled compensation cases.
Stiritz mine became the property of J. S. Cosgrove, Chicago, and H. J. Meehan, Johnstown, Pennsylvania. Ralph Mitchell was mine superintendent. The Cosgrove-Meehan trade name for their coal, Franco, was applied to the mine until it became customary to call it the Franco mine at Stiritz. One of the strongest local unions in the county was that formed by the Stiritz miners, number 1426. But in 1938 flood waters closed the mine, the last to operate in the Johnston City field. A sudden squeeze early in October 1938 prevented complete removal of the equipment.
Albert Christopher Stiritz was born in Philadelphia February 28, 1847, just eight years after his adopted county was created. His family moved to Alton, where he entered business and started his own family. But the Mississippi swimming holes were a constant threat to his six young sons, and Mr. Stiritz found a new home in Williamson County. He interested some of his Alton friends in a railroad through the center of the county, and when it was assured he opened the first store where Johnston City was built. Stiritz and Kopp handled general merchandise, and A. C. Stiritz became the town's first undertaker. He was a leader in organizing building and loan associations and the first bank. Real estate development was his real business, and today Mr. Stiritz lives in the northwest part of Johnston City where he and his uncle, Michael Briehl, platted and built up addition after addition.
(Extracted from Pioneer Folks and Places, Barbara Barr Hubbs, 1939, on sale at the Williamson County Museum)