Oak Hill post office was kept near the township line between section 25 of Lake Creek and section 30 of Corinth. Vancleve Hendrickson was appointed postmaster when the office was established October 30,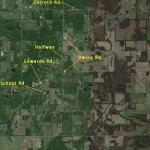 1871.
James T. Hearn took over the duties November 11, 1872 and continued to operate the office until service was discontinued June 6, 1876.
The neighborhood had another post office after twenty years at Halfway, which gave place in turn to Pittsburg.
(Extracted from Pioneer Folks and Places, Barbara Barr Hubbs, 1939, on sale at the Williamson County Museum)