New Denison was located in section 34 of East Marion Township when the railroad was built from Marion to Brookport by way of Creal Springs. Difficulties were met in obtaining right of way, and Charles H. Denison offered a strip one mile long through a farm he owned. A station was planned for that section and given Mr. Denison's name with the qualifying adjective because another Illinois town was known as Dennison at that time.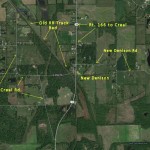 The railroad construction begun in 1887 by the Chicago, St. Louis and Paducah Railway Company was completed under lease to the St. Louis, Alton and Terre Haute Railroad Company. Service was begun between Marion and Brookport January 1, 1889. The Illinois Central leased the line in 1895 and received title February 17, 1904.
A village was platted at New Denison station and W.D. Harris added a survey to the north on his farm. A post office was secured February 28, 1888 with Samuel W. Walker as postmaster. Service was continued at this office until December 15, 1919. The three Welborn brothers, who had stores at Attila and Dwina, opened a New Denison store in 1900 with W.R. Welborn in charge.
Charles H. Denison (1837-1909) was a leading financier of the county and responsible for much of its industrial growth. He came south from his McHenry County home selling a newly patented oil lamp and
stayed to teach.  While he was schoolmaster at Chamnesstown, spelling matches with neighboring schools led him to his wife, Miss Mary E. Bundy who began her schooling in Gum Springs Church. When he was elected circuit clerk, the family moved to Marion and there Mr. Denison entered business and banking until his interest extended into all parts of the county. The farm at New Denison was never the family home, although the Denison son whose future included eight terms as congressman was sent there to work during school vacations.
Mr. Denison was mayor of Marion several terms. He once told a friend there were two questions to ask when the impulse came to spend a dollar. First, is it necessary? Second, will it come back with interest? He believed that if neither question could be answered affirmatively, that dollar should be returned to its owner's pocket.
Brother and brother-in-law of Mr. Denison served in the general assembly. His son served in congress.
New Denison is now (in 1939) a flag stop for Illinois Central passengers trains and a prepay freight station.
(Extracted from Pioneer Folks and Places, Barbara Barr Hubbs, 1939, on sale at the Williamson County Museum)