Locust Grove was an early post office in the northeast part of the county, first kept at the farm home of Samuel Gardom. He received the appointment August 19, 1847, the date the name became effective.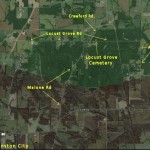 But the office was twelve years old, for it was established as Fancy Farm with Henry Yost as postmaster February 19, 1835. Fancy Farm was just north of the county line in Franklin County, and was the home of John McCreery whose slaves made the Negro settlement Africa.
Samuel K. Casey was put in charge of Fancy Farm post office December 14, 1844 and John McFall succeeded him, January 6, 1846. Sometime before Postmaster Casey took charge, the post office was classified at Washington as a Williamson County office.
The name was changed with Postmaster Gradom's appointment and remained the same until service was discontinued permanently after several temporary lapses.
Larkin M. Riley was appointed to a reestablished post office March 11, 1857. It was closed June 15, 1869 and reopened by George W. Spriggs the following September 20.
Nine days after Mr. Sprigg's appointment, the office returned to Franklin County. Three Mitchells succeeded to the office; Jesse Green, Zadoc Casey, and Avarille Mitchell. This succession ended September 17, 1896 with Elza Frazier's appointment.
William F. Harrison took the office back to Williamson County January 20, 1897. It seems to have stayed until service ended March 20, 1905.
(Extracted from Pioneer Folks and Places, Barbara Barr Hubbs, 1939, on sale at the Williamson County Museum)