Hudgens, a station on the Chicago and Eastern Illinois railroad in section 12 of Southern Township was built on the homestead of Zachariah Hudgens. A post office was opened at the general store May 18, 1900 with Ernest H. Mouton as postmaster. Service continued until March 14, 1931.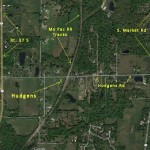 Zachariah Hudgens (1833-1902) came to the county in 1852 with his father, John Hudgens (1804-1878). After six years' residence, the son married Mary Cooksey and they made their home on the farm in Southern Township that grew to 500 acres. A general store on the farm and his service as justice of the peace made Hudgens a trading center for the neighborhood.
After the Civil War, during which he was elected and discharged as lieutenant of the ill-fated 128th regiment, Mr. Hudgens was elected sheriff and moved to Marion. He opened a store there, but in 1885 transferred the stock to Pulley's Mill where his son John Bell Hudgens was his partner.
When the new town of Goreville was built on the railroad, store and mill were moved there. Hiram A. Hudgens and Thomas A. Bradley, son and son-in-law of Zachariah Hudgens, joined the firm and opened the first bank with the aide of Charles H. Denison and Hugh M. Parks.
The Hudgens home in Southern Township burned during September, 1887, and six hundred bushels of wheat were destroyed. Mary (Cooksey) Hudgens died the next year in a typhoid epidemic; Zachariah Hudgens was killed by a locomotive in Marion and lies buried in Fountain churchyard.
Doctor Theodore Hudson returned to his boyhood home in Hudgens after graduation from medical school in Nashville, Tennessee. He married a daughter of Zachariah Hudgens, and their son was named for his grandfather. Zachariah Hudgens was educated at Hudgens School, graduated from the St. Louis College of Physicians and Surgeons and joined his father at Marion in a specialized practice of industrial surgery.
(Extracted from Pioneer Folks and Places, Barbara Barr Hubbs, 1939, on sale at the Williamson County Museum)