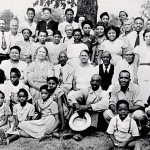 Africa, the name of the black settlement in Corinth Township, in the northeast corner of Williamson County, recalls the story of the McCreery family of Franklin County. Alexander McCreery came from Kentucky to Jordan's Fort (NW section of Corinth Township) in 1812, and his father John McCreery followed four years later to the Territory of Illinois. John McCreery brought a number of family slaves to the new homestead, Fancy farm. The black slaves were valued at more than $10,000 and were held in Illinois as indentured servants.
When the state was admitted to the Union with an anti-slavery clause in the constitution, John McCreery took most of his slaves to the Missouri home of other sons. The other slaves were freed but remained as members of the McCreery household. When Mr. and Mrs. McCreery died, Alexander McCreery inherited their slave property in Missouri. He brought them back to Illinois, set them free, and settled them on land adjoining his own.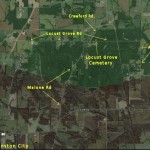 Among the McCreery slaves in Missouri was an elderly black woman, whose husband was not owned by the McCreerys. Rather than separate the couple, Alexander McCreery purchased the man for $300 and brought him along to the settlement that became Africa. This man's name was Richard Inge. He was a shoemaker, and by his labor paid for eighty acres of land near the McCreery farm.
Another black family in his neighborhood was the Stewarts, brought from Kentucky by their master, freed, and given forty acres of land for each family. As freedmen, they took their former owner's name.
Africa was known for its camp meetings, and many people used to visit these services to enjoy the singing.
The settlement was a place for blacks and freed slaves to live while slavery was a contended issue in Illinois. By the 1940s, the settlement had shrunk to about 40 people. Now, a cemetery is all that remains.
The attached group photo was taken at an early 1950s Locust Grove barbecue fundraiser at the site of the cemetery. The annual event attracted descendants of residents, family and friends of those from Africa, and proceeds were used to support upkeep at the cemetery.
The first black man brought to the county came to Corinth Township in 1820 with Spencer Wadkins. Mr. Wadkins always called him a freedman. Frank Jordan is supposed to have had two black slaves and others are listed in the various censuses at scattered farms in the county.
See also, Locust Grove History
(Extracted from Pioneer Folks and Places by Barbara Barr Hubbs and the Southern Illinoisan; Southern file photo)