Halfway was named in recognition of its distance from Marion and Corinth. The general store stood almost on the township line, in section 25 of Lake Creek Township. This neighborhood had an earlier post office at Oak Hill, but Joseph H. Williams opened the post office at Halfway February 5, 1895. The neighboring farmers called for their mail at his store across the road from his farmhouse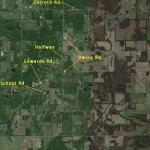 Henry W. Rogers secured the appointment August 3, 1897, but Mr. Williams got it back December 1, then he sold out to James Chadwell, a grandson of the early preacher at Zion Church. Mr. Chadwell and his partner, John Leander Roberts the merchant at Corinth, put in a new stock of goods. They remodeled the old Williams' house before Mrs. Chadwell, a daughter of the first postmaster at Corinth, moved in. Mr. Chadwell became postmaster May 20, 1899.
Chadwell and Roberts sold out in turn to the Riggs boys and Albert Riggs became postmaster June 14, 1905. The new mining town of Pittsburg was being developed and Albert Riggs moved there and became its first postmaster.
Nicholas G. Riggs took over the Halfway store and became postmaster December 8, 1906. The office was discontinued December 15, 1911.
(Extracted from Pioneer Folks and Places, Barbara Barr Hubbs, 1939, on sale at the Williamson County Museum)