Fordville grew at the junction of the Herrin and Carterville branches of the Coal Belt railway, in section 31 of Herrin Township. This electric railroad was built in Marion in 1902, and cars for Herrin or Carterville met at this junction. The railway company built a section house or two and the powder plant was located in 1903. Passengers waiting for a connection were customers for a little store, and presently there was a village.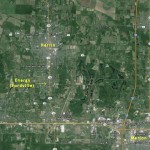 Wiley N. Ford of Herrin owned the surround land, and with his son, Dr. William H. Ford, platted a town in section 31. Additions and sub-divisions have spread the town into each of the adjoining sections. A post office was secured January 9, 1905, and the village incorporated the next spring.
Robert T. Bozarth, the first postmaster, was an undertaker and dealer in furniture both at Fordville and Herrin. He was succeeded March 23, 1909 by Adam G. Stauder. After Stauder, then came James L. Kilbreth, whose term began September 30, 1910.
 The coal mines around Fordville were taken over in 1909 by Herbert H Taylor, who used the trade name
Energy to distinguish his coal. If energy coal were shipped from Energy there would be an added emphasis, so the village council renamed their home. The post office name was changed April 2, 1913, and Energy became official.
Wiley N. Ford (1853-1909), the founder, was born in Jackson County and came to Herrin to deal in real estate when the town was new. The doctor, his son, practiced in Herrin after his graduation in 1898 from St. Louis medical college, then devoted his time to building developments. Father and son laid off (platted) the Ford and Stotlar addition to Herrin. Mrs. William H. Ford is a daughter of Thomas and Louisa (Cox) Stotlar.
See also, Energy History
(Extracted from Pioneer Folks and Places, Barbara Barr Hubbs, 1939, on sale at the Williamson County Museum)