Fergestown, or "Ferges," or "Fudgetown," centers around the Ferges homestead in sections 27 and 28 of Herrin Township. Fletcher Ferges (1833-1922) was born, lived, and died on that homestead settled by his parents. John E. Ferges was a soldier in the War of 1812, in which he served six months as a private in Captain Edward Archer's Company of the first Regiment, Virginia militia. He married Sarah Elmore Green, and most of the children went farther west, to Missouri and to Texas.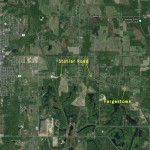 Sarah Jane Ferges (1822-1909) was the first of the family to come to Williamson County. A two wheeled cart brought her possessions with those of her aunt and uncle, Mr. and Mrs. Nathaniel Cox. Mrs. Cox and Mrs. Ferges were sisters. A few years later George Cox, a younger brother, came to visit the family, and stayed to marry Miss Sarah Jane. Mr. and Mrs. George cox were charter members of the Christian Church organized in Stotlar Schoolhouse during the winter of 1864-1865.
Fletch Ferges, the youngest son, inherited the home place and his sister Susan (1826-1913) kept house for him. Neither sibling married and they worked together to develop the large farm. A great many outbuildings and a number of tenant houses for the hired hands made a little village.
Ferges School, District 23, served the children of this neighborhood. In the schoolhouse, about 1887, elder William L. Crim organized a congregation of the Christian church. He farmed during the week in Denning Township, Franklin County. A. Luke Ralls, who lived on Bear Creek, was secretary of Ferges Sunday school.
(Extracted from Pioneer Folks and Places, Barbara Barr Hubbs, 1939, on sale at the Williamson County Museum)