Energy was the new name given Fordville in 1913, as a compliment to Herbert H. Taylor's trade name for his coal. Mr. Taylor began business in 1909, with Taylor 1 and 2 shafts near the town. Energy was the trade name he used from the first in distinguishing his coal on the market. to ship energy coal from the town of Energy added an emphasis, and the town's name was changed.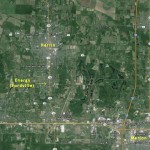 Herbert H. Taylor (1876-1837) was raised in Emporia, Kansas and attended college there. He came to the mid-west looking for a job, and began working at Coal City, Illinois. At twenty, he was selling coal, and through all his success as an operator he described himself as a coal salesman.
Taylor 1 was the shaft in section 32, northeast of Energy. Taylor 2 was northwest of town, in section 31, on Ben and Charles Pope's land. Both mines were sunk in 1902 by the Carterville mining Company, and were operated by Mr. Taylor after the fall of 1909. Taylor 2 was in continuous operation until the washer burned in the winter of 1923. Patrick H. Carroll was mine superintendent at the time Fordville became Energy.
The Hemlock or Walnut Ridge Mine on Thomas Stotlar's land in section 30 became Taylor 3 when Mr. Taylor took over mines 3, 4, and 5 of the Southern Illinois coal Mines. Number 4, or Oak Ridge Mine, was discontinued, but Possum Ridge Mine was operated as Taylor 5.
James A. Kilbreth was postmaster at the time the office name was changed from Fordville to Energy on April 2, 1913. Mr. Kilbreth was chief clerk for the Taylor Coal Company and served on the school board as his brother did at Clifford.
Rank W. Barnes became postmaster June 9, 1919; then Samuel Ritchey, September 19, 1921. Miss Julia T. Madden was next, from February 13, 1923 until October 24, 1924 when Marvin Bowen took over.
See also, Fordville History
(Extracted from Pioneer Folks and Places, Barbara Barr Hubbs, 1939, on sale at the Williamson County Museum)