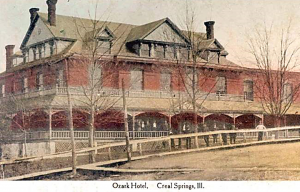 Old water pumps, a few stone steps, a couple aging downtown buildings and remnants of an old racetrack sit quietly under Creal Spring's summer sun, undisturbed by time's passage.
These objects tell stories of a busy past for the rural Williamson County town whose signs boast of 750 residents.
"This is a very crazy town. If you didn't know where things were, you wouldn't know it," local historian Jim Needham said. "It boggles my mind thinking about all this stuff and I've been digging for years."
At the turn of the 20th Century, Creal Springs offered a college, several hotels and a bath house to visitors seeking cures from the town's "wonder waters."
Springs were said to provide relief for digestive organ disease, cure liver and kidney ailments, heal the head and tonsils and soothe swelling among other remedies.
The village also had a railroad depot and mill.
"Creal has so much history," resident Ann Brown said. "My dad said one time if everyone who lived in Marion moved back to Creal, Marion would be a village."
According to historical records, the village blossomed in the 1880s as Creal Springs College, Brown's Creal Springs Hotel, Avenue House and the first Ozark Hotel were built.
An old Marion Daily Republican article noted two mines and a tomato canning factory also operated near the community.
Additionally, Civil War veterans lived in boarding houses throughout the town.
Though the springs' curative powers boosted Creal Springs' reputation, Brown believed transportation provided the early boom.
"The railroad probably created Creal," she said. "At that time the way people traveled, I don't believe the water would have been enough to make it explode without trains."
Business slowly left town, though, as residents banned alcohol sales in 1903, then Prohibition became law of the land.
The Ozark burned during World War I and was replaced by another hotel which closed in 1928.
A fire also claimed the Methodist children's home, which was open from 1913 until the 1920 blaze. Today's United Methodist Children's Home in Mt. Vernon replaced that operation.
The college was torn down in 1943.
"It breaks my heart how it's changed the last 40 years," Brown said. "Creal was pretty when I was a teen. Every street was lined with maple trees. Every place was clean. So many were rentals, but landlords kept houses up and property neat."
Today, Needham studies old photographs looking for clues to learn exact locations of the village's past.
"I may spend the day staring at every little pixel of a picture," he said. "Something hasn't changed. It can't all be gone. Then I start piecing them together and find out everything that goes with it."
Needham found telephone poles offered the best clues to pinpointing where old photographs were taken.
"They always put a pole right next to a pole," he said. "Phone poles–unless it becomes a ghost town–stay in the same place."
He has a collection of old photos, historical documents and photos he's taken for then-now comparisons.
"This town is so full of oddities," Needham said. "No other town around here has so much of a past."
(Marion Daily Republican, By Matt Hawkins, Jul. 28, 2011)