Day, a farming community in Southern Township, centers around the Lance store and home in the northwest corner of section 32. The roads crossed at Middle Wolf creek, and formed a natural point of meeting. Liberty church and Poplar Grove school also help form the community.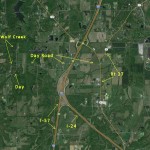 Francis J. Lance and the other residents asked that a post office be established for their convenience. When the petition was granted, officials asked that a name be suggested locally, and that it be a short one. The merchant's son, twenty-four year old Charles Lance, was asked to make the suggestion. Without any reason other than the word is short, he suggested Day. There were no objections, and the post office of Day was opened December 10, 1897. Francis J. Lance was the first and only postmaster, serving until the office was closed April 15, 1907.
When the merchant decided to retire to farming and raising stock, Charles Lance took over the general store. The Lance family is an old one in the county. J. R. Lance, a soldier in the Black Hawk war, lies buried in Crab Orchard cemetery. Calvin Lance gave the ground for Lance school in 1860.
(Extracted from Pioneer Folks and Places, Barbara Barr Hubbs, 1939, on sale at the Williamson County Museum)