Dago was a post office established June 26, 1889 at the Sprague farmhouse in section 4 of Carterville township Miss Lillian Augusta, a daughter of the family, was not yet of age, but she was named postmistress as part of the neighborhood joke which included the new and misunderstood word as the post office name.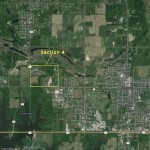 Mrs. Sprague, Miss Gussie's widowed mother, was actually postmistress and became so in fact when the old name of Fredonia was reestablished August 3. Mail for Dago post office was little more than the Sprague's daily Globe Democrat and Willard Kennedy's monthly magazine, the Youth's Companion.
The young postmistress at Dago was one of the first women to work in an Illinois mine office. She began working at Fredonia mine in 1891 though her friends viewed that unusual employment with foreboding. When the Big Muddy Coal and Iron Company opened number 7 at Herrin she was transferred to that office as cashier. When the Consolidated Coal Company acquired the mine property, the cashier was not sold with the other assets. She represented her old company until its local affairs were closed.
Miss Gussie was better known as Mrs. Tom I. Newkirk. Her daughter, Miss Elsie or Mrs. John Creek, was one of Herrin's best loved primary teachers.
(Extracted from Pioneer Folks and Places, Barbara Barr Hubbs, 1939, on sale at the Williamson County Museum)