Crainville, a village in section 11 of Carterville Township, was the obvious name when the Carbondale and Shawneetown railroad built a station there. The entire section and much surrounding land had been entered at the United States land office between 1834 and 1854, by various members of the Crain family. Richard W. Crain made the first of these entries, but he was far from the first of the family in the county. Jasper Crain settled on the west side of Eight Mile prairie in 1816, and then moved to Phelps prairie where he had a mill.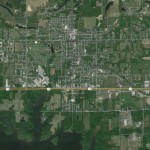 Winfrey L. Crain was sergeant of Captain Armstead Holman's company in the Black Hawk war. With five others of his family name he enrolled in the summer of 1832 to defend the outlying settlements of northern Illinois from the Indians. The privates in the company were Champ, Manuel, Noah, Spencer, and William Crain.
Elder D. S. ("Sant") Crain was a member of the council that organized Hurricane and Bainbridge Baptist churches. He was a fervent exhorter and preached in many of the early churches.
Stores and a mill were built soon after the railroad was built to Marion through the farming country. A village was platted southwest of the railroad station and named Crain City. It was incorporated June 28, 1881 as the village of Crainville. But the elections and incorporations that led to the founding of Carterville all took place at Crain City, before Justice of the peace L.D. Crain.
A post office was secured September 26, 1888 and James M. Crain placed in charge. Service continued until January 31, 1914.
(Extracted from Pioneer Folks and Places, Barbara Barr Hubbs, 1939, on sale at the Williamson County Museum)